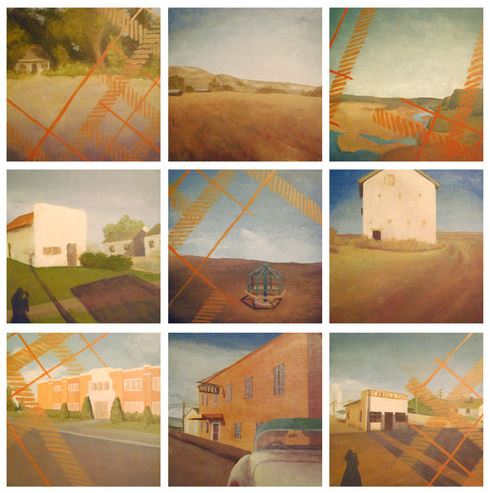 Katy Guthrie graduated from Fort Hays State University in 2013 with her Bachelor's of Fine Art in Painting. A native of Kansas, Guthrie has always been interested in community development and enrichment through the arts. In late 2014 she excepted the position as Executive Director at Garden City Arts and has since started teaching art classes for both children and adults and organizing art events and exhibitions.
Along with painting, Katy is also a jewelry maker and book maker. She often incorporates vintage materials into her work.
ARTIST'S STATEMENT
When we discount the experiences of the past, we are throwing away our ability to grow. This irreverence for our history and consequently the lessons learned from those experiences has become normal in our culture. And yet the remnants of our past are still present running like deep threads through our daily lives, our consciousness and our opinions. They are often so thin that their subtle influence goes unnoticed as we go about making day to day decisions. I believe this is the cause for the lingering racism, exploitation of resources, prejudice, gender barriers, and domestic struggles that have remained in our society despite the efforts to eradicate them. In my artwork I seek to examine these threads and the impact they have on our society today.