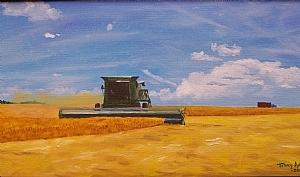 Terry Anderson was born in 1949 and grew up in rural Grant County. Art was a form of expression which showed his love of the land and the animals who lived on it. Terry is mostly self-taught, but has had instruction in color and composition from notable artists like Nancy and Teri Brown, Jack Sorensen, and a plein air workshop with Aaron Schuerr.
Terry's work has also been influenced by landscape and wildlife artists like Charles Russell, Carl Runguis, John Clymer, Brett Smith, Reid Christie and Richard McKinley.
Retirement now allows Terry more time to paint and travel with wife Lana throughout Kansas, Southwest Montana and the Rocky Mountain States.
ARTIST'S STATEMENT
I have been fortunate throughout my life, whether in my 36 year career or in my many interests, to be able to surround myself in the natural world. I am still learning and becoming more aware in creating new work. Oil and pastel are the mediums I prefer. Experiencing nature and being able to try to create how I feel about these experiences through my art and hopefully making a connection with the viewer are the highest rewards.